Free Things To Do in Copenhagen
Read on to learn which musems offer free admission and about the Copenhagen Card.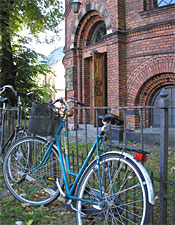 Discounts
The Copenhagen Card gives free admission to nearly all the museums and most of the sights in the city and surrounding area. It offers unlimited access to buses and trains. You can buy the card at Central Station's DSB ticket office, the main tourist office, hotels and many S-tog stations. Three days for one adult: 450 DKK; three days for one child aged 10--15: 225 DKK
Free Attractions
Many of the museums in Copenhagen are free on Wednesdays.
You might want to catch the changing of the guard at noon at the Royal Palace. Have a picnic at Kongens Have, the large public park. The Carlsberg Brewery tour is free and so is the city pool on the Islands Brygge.
Walking around the island of Christianshavn isn't the trip it used to be after the drug raid in 2004, busting an estimated 80 million DKK trade. However, it is still the ongoing social experiment it has been since the early 1970s. Eccentric shops, clubs and galleries are and always have been and still are of interest to younger visitors. And, it's important to visit it now, before the conservative government shuts it down.