Copenhagen City Transportation
Copenhagen is best explored on foot, though bikes provide another great option as well. Read on for more info.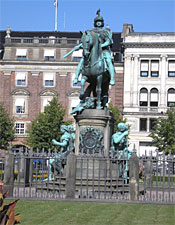 Walking
Copenhagen is the quintessential walking city. Tivoli Gardens – just outside the train station – welcomes tourists with lots of amusement.
More information at: Tivoli Gardens Tourism Site
Metro, S-tog, and Bus
A fine mix of buses, S-tog trains and metro cover the city. Overnight metro, bus and natbus service takes over after 1 a.m.
More information at: www.dsb.dk.
Metro, S-tog, and Bus Tickets
One-hour trip in two zones: DKK 18

7 days: DKK 190

24-hour Copenhagen Card, including museum entry: DKK 199

72-hour Copenhagen Card: DKK 429
Bikes
Kobenhavns Cykler at central station rents bikes for DKK 75 a day. A few blocks northwest, at Colbjornsensgade 3, Danwheel rents for DKK 40. In the summer, the City Bike scheme allows riders to borrow bikes from racks across the city for a DKK 20 deposit.
City Bike rental information: www.bycyklen.dk.
Airport
Information at: www.cph.dk.
Note: All prices (in Danish Krones) were accurate when compiled. 1 Danish Krone is approximately equal to .18 cents American or €.15. Please check the Web sites listed for the most up-to-date information.