Berlin City Information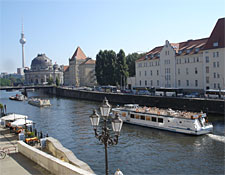 Before you book your hostel for Berlin (and certainly before you arrive in town!), it's best to understand how the city is organized and how the hostels are situated. Here's a quick look...

City layout
Berlin is unique in that, due to the past division of the city, no real center exists. Or, perhaps, lots of centers exist. Today, the former East Berlin, including Mitte, Prenzlauer Berg, and Friedrichshain, contains most of the city's historic landmarks and young, hopping neighborhoods while the former West, including Charlottenberg and Schoneberg, is the commercial and business heart of the city. In the geographical center of town, the city's major park, the Tiergarten sits pretty. The tree-lined Strasse des 17 Juni runs east to west, past the famous Brandenburger Gate and into the eastern neighborhood of Mitte. Mitte is home to many of the city's historical sights, museums and churches.
Cafés and shops run along the Oranienburgerstrasse, a street cutting through its northeastern border. Between the Mitte and Kreuzberg is Potsdamer-Platz. Described by one visitor as "Times Square on drugs." one can find a mix of Marlene Dietrich memorabilia, state libraries, shopping malls, film centers and cafes. South of the Mitte, you will find the clubby, young crowd, as well as Turkish immigrants in Kreuzberg. East of Mitte is Friedrichshain. Though home to the awe-inspiring and bombastic Karl Marx Allee, a street once used for transportation of tanks and other war equipment on wheels, the entire quarter is undergoing modernization and gentrification. All types, from left-over hippies to left-over skinheads, share the streets, and what may look like a construction sight may be the latest unmarked discos and speak-easies.
In the former West, starting on the southwest side of the Tiergarten, is the beginning of Kurfürstendamm in the neighborhood of Wilmersdorf. Western-style shopping areas are not as easy to come by in many other neighborhoods of Berlin, therefore, the 'K-damm' is an easy stop for those looking to buy just about anything; clothes, records, books, shoes, wieners, etc.