Free Things To Do in Berlin
Berlin has plenty of free attractions, and visitor cards offer a fare share of discounts as well.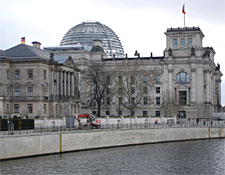 Discounts
The Berlin-Potsdam Welcome Card gives buyers unlimited access to public transportation as well as discounts on major museums, shows and other attractions. Three-day: €22.90
SchauLust Museen Berlin is a pass that provides free admission to over 50 museums. Three-days: €19
Free Attractions
Unlike a lot of other European cities, this one is a challenge to walk around in when trying to get from place to place. The whole thing is just too spread out. The following is a list of things to see for free, out of doors. However, you will most likely need to take public transportation to reach them.
Berlin is the place to see unique architecture. This is where bombed out brick and concrete buildings meet modern glass shapes and where old factories now serve as housing, hotels and nightclubs. In a mere description, the combination of brick and glass sounds horrible. In reality, however, the mix is magnificent.
Bits and pieces of the Berlin Wall are located in between the neighborhoods of Friedrichshain and Kreuzberg, both in the east side of town. There is not much left to see, but many tourists have an interest in standing in the space where 'it', the tearing down of the wall, happened.
The Brandenburger Tor used to be a gateway to nowhere, as it was barricaded during the Cold-War Era. Situated directly in the center of the city, it could be seen by easterners but never passed through. Now, after the fall of the wall, it has become a symbol of east-west unity. The Room of Silence on the northern end of the gate gives visitors a good excuse to meditate and reflect. This gate is also on the eastern end of the Tiergarten, the city's central park.
At most times, the Reichstag has a huge line of people waiting outside of it. Don't be afraid; it's not a tourist trap. At this point in time, it is seen by the Germans as a patriotic pilgrimage to visit the Reichstag. This is where on October 2, 1990 the reunification of Germany was enacted and the Reichstag become home of the German parliament, not to mention the whole history of it burning when Hitler was in power. Reconstruction in 1999 was just icing on the unification cake. Be sure to walk around the glass dome, the cupola, and see a gorgeous view of Berlin in panorama and a view of parliament in action below.
Finally, the Alexanderplatz in Friedrichshain, is the place to see the Fernsehturm, Berlin's best landmark, a silver tower with a ball near the top, and the futuristically silver World Time Clock built in 1969.