Berlin Hostels: What You Need To Know
We'll clue you in on Berlin's lively hostel scene, so you'll know what to expect when you arrive.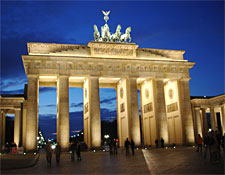 By HUNTER STUART
Heading to Berlin for the first time? New to the hostel scene? Here's a quick overview of what you can expect from a hostel in Berlin.
Q. What is the Berlin "hostel scene" like?
A. The Berlin hostel scene is usually a young and very social one – hostels are a great place to meet other travelers. Most have their own bar, many of which are open all night. It's common for Berlin hostels to have lounges, pool tables, foosball, or small cafes. You hear a lot of English spoken.
For some, the hostels can be a little too party-friendly, especially if you are staying in a 32-bed dormitory where guests are coming and going all night long. That being said, nearly all Berlin hostels have private rooms and many have family-oriented accommodation available.
Q. How much do they cost?
A. Most of the city's hostels offer private rooms for €50 to €80. However, in Berlin, the less privacy you need, the less you'll pay. Eight-bed dorms average about €25 per person, while 12 and 16 bed dorms are more like €20 per person.
In some of the largest dorms available, you can find a bed for as little as €10 per person per night (check out the Happy Bed Hostel Steglitz for €7 a night - and that includes breakfast, too.) If you're a real badass (or next to broke), some hostels rent tents that you can pitch in their backyard for even less.
If you desire something a little more luxurious, check out the Hotel and Hostel Friedrichshain, located in a lively neighborhood, but in a quiet courtyard – a place popular with students and businessmen, where each room has a TV. (Watch out – many hostels still don't take credit cards. Reservations are recommended from May to September, and prices are generally lower during the winter months.)
Q. What do I get for my money?
A. It's important to know that the price of a bed gets you a bed but not always sheets to go on top of it! (Sheets are often a couple euros extra.) All Berlin hostels have breakfast available, and very often the toast, jam, meat, cheese, cereal, juice and coffee are included at no extra charge. It's rare to find a hostel without kitchen facilities and internet available. Berlin hostels are almost always staffed by young, smart Germans who are fluent in English and know their way around the city.
Check out the Meininger City Hostel Hallesches Ufer for lots of freebies: all-you-can-eat breakfast, sheets, towels, car parking, bag lockers, and city walking tours are all included!
Q. What else can I expect to find at a typical Berlin hostel?
A. Many hostels have guided tours available (for a charge) and also rent bicycles (a fantastic way to get around this massive, flat metropolis). The A&O Hostel and Hotel Mitte is a great place to rent bicycles while the BaxPax Kreuzberg Hostel includes city walking tours for no extra cash.
Q. Where are most Berlin Hostels located?
A. Although many hostels are located in the city center, many others are scattered about Berlin's various spread-out neighborhoods. Berlin is geographically massive – really two cities in one – but just because a hostel isn't in the dead-center of the downtown doesn't mean it's inaccessible. That being said, watch out for some hostels that really are in the outer orbit of the city – generally speaking, anything that requires riding the bus just isn't worth it.
Some of the hostels in funky Friedrichshain or working-class Neukölln may look far from the city center on a map, but in reality they are in underrated, thriving local neighborhoods of their own. We particularly recommend staying in Kreuzberg, the idyllic neighborhood of flower-strewn cafes, grassy canals, and Turkish bakeries with warm bread for under a dollar.
Q. Where are the "official" Berlin hostels located?
A. There are several Hostelling International Berlin locations, where membership is required.
The Berlin Youth Hostel International is located near Potsdamer Platz just south of the city's enormous central park, the Tiergarten, at Kluckstrasse 3. It's only a short walk from the Kurfurstenstrasse stop on the U1 metro, in the attractive Schöneberg neighborhood. Good for large groups, this 350-bed hostel also welcomes the individual traveler, although he or she might want to beware of the other 349 guests, who could be a group of hellishly rambunctious German kinder running wild all over the premises. (Note: You must be an HI member to stay here!)
There's also the Jugenherberge Berlin Ernst Reuter which is ideal for those of you traveling with your extended family on a tour bus. Seven miles from the city center, this traditional hostel is more convenient for getting to the Tegel airport than to the city of Berlin. (Watch out – if you're over 27 years old, you'll pay a "senior" tax of €3, in addition to the surcharge for non-members.)
Q. Do Berlin hostels have curfews?
A. Very few hostels in Berlin impose late curfews on their guests. (One is the Berlin Youth Hostel International on the Kluckstrasse, which has a 3 AM curfew.) Most of these hostels have long acknowledged that at least half of the Berlin experience happens between midnight and sunrise, and strongly encourage their guests to come and go at all hours of the day, night, and early, early morning hours.