Helpful Information: Berlin
We love these links on the German capital. Gear up for your trip with practical info and entertainment ideas.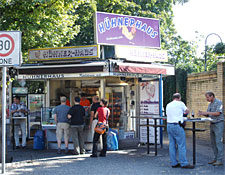 Berlin Visitors Guide
There's plenty of valuable tourist information here.
BVG of Berlin
Don't get lost. Visit the official site for Berlin's public transportation system.
Berlin Tourismus Marketing
More great tourist information in three easy columns.
Berlin International Airports
Getting in and out of the Berlin airport is easier when you "check in" here ahead of time.
Mauer Museum Checkpoint Charlie
Yes, a site dedicated to security guards does exist.
Deutsches Historisches Museum
So much German history, so much museum.
Staatliche Museen zu Berlin
Not sure which museums to hit in Berlin? Take a look at your options here.
Puppentheater-Museum Berlin
Where do puppets get off having their own museum in Berlin?