MJ Place Hostel
Hotel Address
Via Solferino 9
Rome, Italy
Average guest rating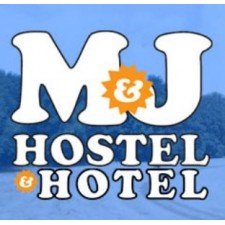 Check Rates for

MJ Place Hostel

Checking Rates for

MJ Place Hostel

No availabilityLowest price:
EuropeanHostels is currently checking rates for your dates

Hostel Description email this page
Located just a few blocks from Rome's Termini train station and within walking distance of many central sights, the MJ Place Hostel (sometimes called M&J Hostel) has a range of dorms and private rooms on tap.

Mixed dorms (no all-female wings here) accommodate between four and ten travelers via single beds. Almost all bathrooms are shared facilities offering 24-hour hot showers. Linens and luggage storage are included in the nightly rate. Breakfast and towels can be added on for an extra cost.

Free Wi-Fi is available. The hostel has a common room with satellite TV and a fully-equipped kitchen. In addition, the M&J (or MJ) boasts its own bar/lounge/nightclub, the Living Room, which stays open 24-hours. The Living Room serves as the on-site restaurant too providing a range of pizza and pasta dishes. Get ready to ciao down!
Average Guest Ratings
Our users' reviews
"clean hostel, questionable management"
Be causious. The prices of rooms in this hostel seem to change almost hourly. Also, I was told that I would get free internet, linens, and breakfast. When I arrived I had to pay for each of these things. Also, many other people that were staying there at the same time as me had the same problem. I did however meet a lot of great people there. And, the hostel has a kitchen so 8 or 9 of us were able to make a big pasta dinner one night. Overall, the hostel itself is pretty decent. It has clean facilities. But, the management is very questionable and you pay end up paying more than you expected to.
"OK Stay"
The hostel is ok, nothing more nothing less. Room: The bunk beds are not as good as beds at other hostels. Any slight movement results in the whole bunk bed shaking. The room was full and the hostel did not do a good job in assigning beds. As a result, I was woken up in the middle of the night by someone who didn't have a bed. The bathrooms were pretty filthy. They definitely need to clean it more often. Way too many people were sharing each bathroom. The good: Free internet and free breakfast. No in room lockers, but small safe available by front desk. Close to the train station, very convenient for late arrivals. Don't go to the restaurant/bar downstairs. Anytime someone tells you "I'll give you a discount only because you are my friend," they actually mean surcharge. I was overcharged by the less than honest staff, but was too tired at that point to fight over 2 euros. Its a hostel and its cheaper than their competitors, but be aware of its shortcomings. It is only acceptable because I stayed here one night and didn't use the showers.
"At Least the Staff Was Friendly...."
The M&J has a convienient location for the metro and has a very friendly, very knowledgable staff, but other than that we couldn't recommend it. If you book beds for 2, expect to share a bed; good perhaps for a couple (though not for their roomates), and a bit awkward for a brother and sister (like us). Also, definately skip the free "Italian" breakfast, unless stale rolls and spoiled milk are to your liking. Not much opportunity to meet other travelers in the hostel either. Also the custodial staff for the building can be downright rude to the hostelers. Not an impossibly uncomfortable place, but not recommended.
Amenities
Hotel
Airport Transportation
Bar/Lounge
Bicycle Parking
Bike Rental Available
Breakfast Available (charge)
Children Friendly
Credit Card Payment Accepted
Currency Exchange
Fax Available
Guest Kitchen
Internet Station Available
Luggage Storage
Nightclub
No Smoking in Hotel
Reception: Always open
Restaurant
Storage Lockers
Swimming Pool
Tourist information
Wi-Fi (available)
Wi-Fi (Free)
Room
AC in room
Internet Access Available
Key Card Access
Linen/Bedding Included
Towels
About the MJ Place Hostel neighborhood
The area north of Rome's Termini Station is by no means the most charming part of the city. However, it is packed with affordable, and often charming, hotels. Walk west to reach the Piazza della Republica.