YHA Ostello di Venezia (Della Gioventu)
Editor's Pick
Hotel Address
Fondamenta Zitelle 86 -Isola Della Giudecca
Venice, Italy
Average guest rating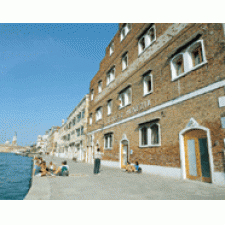 Check Rates for

YHA Ostello di Venezia (Della Gioventu)

Checking Rates for

YHA Ostello di Venezia (Della Gioventu)

No availabilityLowest price:
EuropeanHostels is currently checking rates for your dates

The Basics: YHA Ostello di Venezia (Della Gioventu) email this page
Offering clean rooms out of what used to be a grain factory, the YHA Ostello di Venezia (sometimes called the YHA Ostello Della Gioventu) is located on Venice's island of Guidecca and sits just across the water from St. Mark's Square.

With a whopping 254 beds, the YHA provides a range of dorms that are either mixed or all-female; bathrooms are shared and located in the hallway on each floor. Breakfast and linens are included in the nightly rate.

The hostel provides luggage storage and has 24-hour hot showers. There are also lockers in each dorm room, a common TV lounge and the reception desk is open at all times. Internet access costs extra.
Average Guest Ratings
Our users' reviews
"ANYONE BUT THIS ONE"
BAD STUFF: -noise : mix of noisy pupils classes & alone travelers/ connecting dormitory by ceiling -dirty showers, no soap in toilets to wash your hands -broken luggage lockers -you have to pay three euros supplementary if you don't have the hostelling international card member -no kitchen for clients -staff not always friendly -uncomfortable and weak beds GOOD STUFF: -beautiful sight -nice cook (the japanish one) -good breakfast
"Find another hostel"
This place is a sh**hole. You can only get to the island by paying for a boat or swimming. The staff doesn't really care about you they just want your money. The breakfest is a roll with butter and jelly and some drink. they have lockouts so they can open the common area up to sell cheap meals to passer byes. The bathrooms have no toilet seats at all. so just find another place
"bed to sleep in not much more"
the hostel did not provide the typical hostel experience. You had to pay extra for everything. Each night there were children from eight to sixteen running all over the place. The store and kitchen wihim he hostel is staffed by very rude people. Rooms are basically all with 32 beds
More Information
Hotel Address
Fondamenta Zitelle 86 -Isola Della Giudecca
Giudecca, Venice, Italy
more information
Amenities
Hotel
Bar/Lounge
Breakfast Included in Rate
Luggage Storage
No Smoking in Hotel
Reception: Always open
Restaurant
Snack bar
Storage Lockers
Wi-Fi (available)
Wi-Fi (Free)
Room
Handicap-Access Room Available
Heat in room
Linen/Bedding Included
Towels
About the YHA Ostello di Venezia (Della Gioventu) neighborhood
Composed of many islands on the south side of Venice, the Giudecca hood was home to a banished Jewish community in the Middle Ages and home to Venetian nobles a few centuries later. Today, it's a working-class residential area. Giudecca is separated from the city by the Canal della Giudecca.