Bostel Amsterdamse Bos
Editor's Pick
Hotel Address
Kleine Noorddijk 1
Amsterdam, Netherlands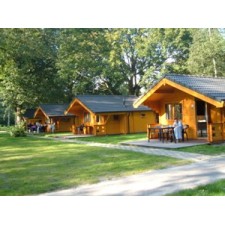 Check Rates for

Bostel Amsterdamse Bos

Checking Rates for

Bostel Amsterdamse Bos

No availabilityLowest price:
EuropeanHostels is currently checking rates for your dates

The Basics: Bostel Amsterdamse Bos email this page
The Bostel Amsterdamse Bos is a hostel-slash-camping-ground that's located about a 30-minute bus ride south of central Amsterdam. The place is best suited for those who value the great outdoors over being in the middle of it all.

Two-, four- and five-person cabins with heat are available. Bathrooms are all shared. You must bring your own bedding or rent a sleeping bag; showers are coin-operated.

There's an on-site communal kitchen, laundry facilities, a mini-market and bike rental. Note that there is a bus that leaves from in front of the camp ground and connects to city center. In addition, a metro line is located within a fifteen-minute walk of the Bostel.
Our users' reviews
"Nice and cheap!"
This place is a little too south of Amsterdam and takes a good 50 mins to an hr to get there, but if you're looking for a cheap place to stay, this is it people. Because if you're in amsterdam, you'll probably just go to hostel to sleep a bit and this serves the purpose perfectly. No breakfast, sleeping bag or linen included, but you can get all of that for a few extra bucks. The little chalets were nice and clean, and the camping ground is safe enough.
More Information
Hotel Address
Kleine Noorddijk 1
Outer Amsterdam, Amsterdam, Netherlands
more information
Amenities
Hotel
Breakfast Available (charge)
Guest Kitchen
Parking: Free
Wi-Fi (available)
Wi-Fi (Free)
Room
About the Bostel Amsterdamse Bos neighborhood
Hostels in this hood are located on the outskirts of town and may or may not be accessible by public transportation.