Free Things To Do in Lisbon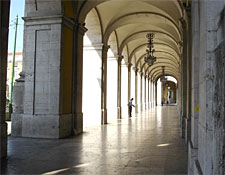 Lisbon has plenty of free attractions. Know where to go by reading our guide.
Discounts
The Lisboa Card grants carriers discount entrance fees to museums as well as free rides on the CARRIS system. Buy one at the Palacio da Foz, The Welcome Center and the airport, among various other tourist spots around town. The 24-hour card is €17 for adults and €6 for children 5-11 years of age. The 48-hour card is €27 for adults and €9.50 for children. The 72-hour card is sold to adults for €33.50 and to children for €11.50.
Free Attractions
The Basilica da Estrela is Dona Maria I's thanks to god for granting her a male heir. Well, I'll be. Part of the Lisbon skyline, the dome dates back to 1796. It holds a nativity scene from the 10th century and is home to some pretty detailed wall paintings. And, guess what? It's free.
Any park attracting photographers, romantics and children attracts your loyal EuropeanHostels reviewers as well. Many picturesque parks find a happy home in Lisbon. Jardim da Estrela is one of our favorites. A garden surrounded by parks, Jardim da Estrela serves as a wonderful vantage point to appreciate the Basilica da Estrela next door. Walk through Parque de Sao Pedro de Alcantara in order to walk through Parque Principe Real to get to the Jardim. The most fantastic flora in Lisbon awaits you. Benches, cypress trees and tropical flowers all invite the public to kick back, enjoy themselves and, possibly, freak out over all the Lisboa beauty.
Festa de Santo Antonio is the biggest party of the year celebrated throughout the country. On the eve of June 13th, even the smallest towns explode into sights of multi-colored banners, ribbons, concerts and events. Confetti falls onto Av. de Liberdade. Young people crowd the streets of Alfama. Grilled sardines, called 'sardinhas,' and wild cherry liqueur, or 'ginginha' can be found everywhere.