Helpful Information: Lisbon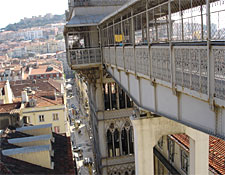 Quench your thirst for Portuguese culture with these links on Lisbon.
Carris
Avoid walking up hills in Lisbon with the assitance of the Carris public transport system.
Aeroportos de Portugal SA
Portugese airports publish their schedules with the help of this site sponsored by Aeroportos de Portugal SA.
Association of Tourism Lisbon
The Association of Tourism in Lisbon makes getting around town a cinch.
Museu Calouste Gulbenkian
See what the Calouste Gulbenkian Foundation has to offer at its very own museum.
Museu Nacional de Arte Antiga
The Museu Nacional de Arte Antiga hits the modern era.
Museu Nacional de Arqueologia
The Museu Nacional de Arqueologia is the place to see ancient artifacts in Lisbon.
Mosteiro dos Jeronimos
See the breath-taking buildings of Mosteiro dos Jeronimos before you go.