Lisbon City Transportation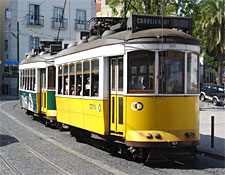 Lisbon is a hilly city, so you'll be happy to know that trams and buses can lighten the load on your feet.
Walking
Get ready to go uphill, way uphill.
Subway, Tram, Bus, and Funicular
Buses, trams, and funiculars are ready to get you around this hillside town. Run by CARRIS, the system goes all over the city as well as the suburbs. Metropolitano de Lisboa also runs a 4-line metro system.
Subway and Tram Tickets
One ride: €1.40

10 tickets: €6.65

30 days: €22.60
One-day pass: €3.70

Five-day pass: €13.50
Bus and Funicular Tickets
One ride: €1.30
More information at: www.metrolisboa.pt
More information at: www.carris.pt.
Airport
Information at: www.ana-aeroportos.pt
Note: All prices were accurate when compiled. Please check the Web sites listed for the most up-to-date information.