Lisbon City Information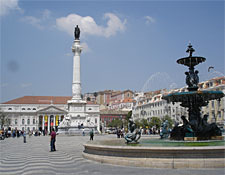 Learn about Lisbon's "bairros" before you arrive to make things that much easier.
City Layout

The city center of Lisbon is made of three main bairros (neighborhoods): The Bairro Alto (high district) in the western region, the Alfama on the eastern region, and the Baixa-the heart of Lisbon-conveniently sandwiched in between the two. Head south and you'll hit Rio Tejo. Along the river you'll find the Parquedas Naç'es (Park of Nations) and the up-and-coming Alcântara and Docas (docks) regions.

Looking for pedestrian streets and boutique shopping, hit up the Baixa. For those looking for more upscale shopping and the antique feel of an older, Arabic part of the city, head southwest toward the Alfama. Otherwise, for the chic and budget alike, head to the Bairro Alto, where you'll find it all, from fado clubs and budget restaurants to chic and stylish discoteques and eateries. 

Hostel Overview

Pick your priorities before you pick a hostel in Lisbon. All are reasonably priced at €6-15, however few are located directly in the city's center. Though many hostels are way out there in the boonies, don't count them out, as transportation is easy and economical. Then again, you could always sacrifice the city's twisting streets, haggling street sellers and not-so-intriguing odors for a beachside residence or country house, only a short train/bus ride from the city.