London City Transportation
We have the skinny on London's famous Tube, along with bus and ticketing information.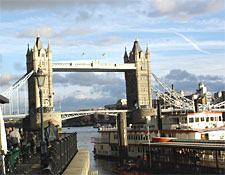 Walking
London's city center, less congested by cars than before, is still cramped with people. Other neighborhoods, like Bloomsbury and Hampstead, are easier to stroll through at a comfortable clip. Venturing around London by foot is a great way to get a vibe for the unique character of each neighborhood. But, when your dogs start barking, public transportation--in the form of the underground and buses--is an easy-to-use, reliable option.
The Tube and Buses
The famous underground tube system is well-known across the world. Use it to get anywhere you want and to head into the heart of the city and to locations far and wide. Other modes of transport, such as the National Rail, cover suburban destinations. Various discounted cards for certain zones and age groups are available. Be sure to look into purchasing an Oyster card which could end up saving you pounds along the way. Tickets are priced depending on what zone you're traveling to and whether you'll be making a one-way or return journey. Reduced fares apply to children ages 5-15.
More information at: Transport for London.
Tube and DLR Tickets
Single fare in Zone 1 (central London): £4, £2 reduced

1-day Travel Card in Zones 1 - 6 (peak): £14.80, £7.40 reduced

1-day Travel Card in Zones 1 - 6 (off-peak): £7.50, £2.00 reduced

3-day Travel Card in Zones 1 - 6 (peak): £42.40, £21.20 reduced

3-day Travel Card in Zones 1 - 6 (off-peak): £21.20, £6 reduced
Click here for Oyster card information.
Bus Tickets
One-way: £2

One-day pass: £3.80
Airport
Heathrow Airport information at: www.heathrowairport.com. If you're looking to snag a good airfare deal into Heathrow or other nearby airports including Stansted or Luton, we recommend searching CheapoAir.com for flights to London.
Note: All prices were accurate when compiled. Please check the Web sites listed for the most up-to-date information.