Residenza Santa Croce
Editor's Pick
Hotel Address
Santa Croce 555
Venice, Italy
Average guest rating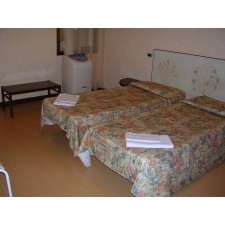 Check Rates for

Residenza Santa Croce

Checking Rates for

Residenza Santa Croce

No availabilityLowest price:
EuropeanHostels is currently checking rates for your dates

The Basics: Residenza Santa Croce email this page
Located withina five-minute walk of Venice's Santa Croce train station, the Residenza Santa Croce offers up bunks for less. Visitors here rave about the clean rooms and the stellar location.

All rooms and dorms are equipped with heat, a TV and fridge. Dorms are mixed affairs—accommodating between four and six people—and have an en suite bathroom or shared facilities in the hallway. Private, twin rooms may also be booked. Linens and towels are included in the nightly rate and changed every three days. (Ask ahead if you'd like breakfast in your room.)

The residence frequently offers deep discounts in the off-season and provides luggage storage. Internet access is free.
Average Guest Ratings
Our users' reviews
"Love the location"
SO easy to find. Really clean rooms with good facilities, but the internet was a little slow. Will definitely recommend it to others!!
"Santa Croce"
this was a very nice and clean hostel. I liked how friendly the front desk people were and how helpful they were. definitely the best choice in venice.
"Great Hostel and Excellent Location"
The rooms were very nice and had private baths. They were clean, with sufficient space and had ammenities like a little fridge, air conditioning, TV, and lockers in the room. The location was excellent as it was not very far from either the train or bus station and was right on the grand canal. Everyone at the desk was friendly and helpful. The only issue for me was the many flights of stairs with no elevator (pack light). As far as hostels go it was not cheap, but given the hotel prices in Venice I thought it was priced fairly.
"amazing hostel!"
This hostel is so conveniently located right across from the train station! I lucked out and got one of the rooms right at the check in...some of the rooms are located at another part of venice, which is probably very annoying. The rooms are really nice, very clean, and with a NICE bathroom!! staff are very helpful and nice also
"convenient and clean"
The hostel is in a great location (right across the canal from the train station... although make sure you check the number). The rooms are great and the staff is helpful. The computer is quite out-dated, but otherwise, it's a great place to stay.
More Information
Hotel Address
Santa Croce 555
Santa Croce, Venice, Italy
more information
About the Residenza Santa Croce neighborhood
Situated near Santa Lucia station, Santa Croce is home to many budget hotels. The eastern half of the hood is home to many examples of medieval architecture, though the west side is more firmly in this century.