L' Imbarcadero
Editor's Pick
Hotel Address
Santa Croce, 1268,Calle Zen
Venice, Italy
Average guest rating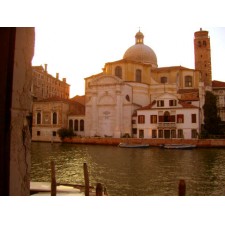 Check Rates for

L' Imbarcadero

Checking Rates for

L' Imbarcadero

No availabilityLowest price:
EuropeanHostels is currently checking rates for your dates

The Basics: L' Imbarcadero email this page
L'Imbarcadero is a relatively new hostel in central Venice. It opened its doors in 2008 and offers a range of rooms, most of which have a grand view of the Grand Canal. The property is close to lots of the city's main action too, and within walking distance of the Santa Croce train station.

The hostel prides itself on how it decorates rooms with "taste and functionality." Dorms have regular beds (no bunks here!) and can house between four and six guests. A variety of private suites are also available and all spaces—regardless if private or dorm—overlook the water or the quiet inner courtyard. And get this: linens, breakfast and Wi-Fi are all free with the nightly rate.

There's a TV lounge, a guest kitchen and provides lockers and luggage storage. 24-hour hot showers are guaranteed. There's no curfew.
Average Guest Ratings
More Information
Hotel Address
Santa Croce, 1268,Calle Zen
Santa Croce, Venice, Italy
more information
Amenities
Hotel
Breakfast Included in Rate
Wi-Fi (Free)
About the L' Imbarcadero neighborhood
Situated near Santa Lucia station, Santa Croce is home to many budget hotels. The eastern half of the hood is home to many examples of medieval architecture, though the west side is more firmly in this century.