Durty Nellys Inn
Editor's Pick
Hotel Address
Warmoesstraat 117 1012 JA Amsterdam
Amsterdam, Netherlands
Average guest rating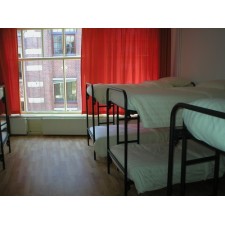 Check Rates for

Durty Nellys Inn

Checking Rates for

Durty Nellys Inn

No availabilityLowest price:
EuropeanHostels is currently checking rates for your dates

The Basics: Durty Nellys Inn email this page
The Durty Nellys Inn (hostel) might have a funny name and be located in Amsterdam's grungy Red Light District, but there's nothing dirty about the sheer volume of spic-and-span reviews this place gets, and it's smack-dab in the middle of all the action! Did we mention it's cheap?

60 beds are located over several room types (private twins, mixed and single-sex dorms accommodating between four and ten guests). Security lockers, linens and a hearty Dutch breakfast are included in the nightly rate.

The whole place is non-smoking. Free Wi-Fi is available. There's no curfew.
Average Guest Ratings
Our users' reviews
"*exceeded my expectations*"
I stayed at Durty Nelly's Inn recently and i was really impressed with the serive, staff and over all hostel! it doesnt see, like much as you check in at reception, but the hostels were clean, the food was good for what you pay, its local and the staff are really helpful and friendly! we stayed in a private 4 bed ensuite room, at an extra cost, but it was definately worth it. I was very please with the whole experience. Dont be put off my some peoples bad reviews. its a great hosetl!
"Great place to stay in amsterdam"
the beds are nice and the people are great. they have lockers for 10euro deposit, but it is safe enough to leave your bags unlocked. they have id's so only people in the hostel are allowed in the hostel
"Greatest Hostel in the 'Dam"
We really enjoyed our stay at Durty Nellys. Despite the name, the place was very clean and very secure. The service was good and the breakfast was awesome too. It is located on the edge of the red light district but also close to the train station.
"Great place to stay in Amsterdam"
It was great palce! It was safe and secure, had a great bar underneath and a fabulous breakfast. It was right on the edge of the red light district and pretty easy to find. I would definately recommend it!
More Information
Hotel Address
Warmoesstraat 117 1012 JA Amsterdam
Red Light District, Amsterdam, Netherlands
more information
Amenities
Hotel
Bar/Lounge
Bike Rental Available
Breakfast Included in Rate
Internet Station Available
Luggage Storage
Reception: Always open
Restaurant
Storage Lockers
Tourist information
Wi-Fi (available)
Wi-Fi (Free)
Room
AC in room
Internet Access Available
Key Card Access
Linen/Bedding Included
Towels
About the Durty Nellys Inn neighborhood
Situated within Amsterdam's Old Center, the Red Light District is perhaps the city's most infamous neighborhood. Yes, you will find sex shows, shops selling marijuana, and plenty of red lights, but there are some more traditional attractions on offer here as well: the Oude Kerk ("Old Church") and trendy shops balance out the racy vibe. Plus, a significant police presence keeps things safe.