Hostel Archi Rossi
Editor's Pick
Hotel Address
Via Faenza 94 R
Florence, Italy
Average guest rating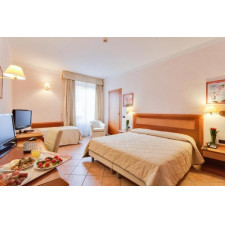 Room Rates
Single

$

34

-

$

46

Double

$

57

-

$

103

Triple

$

79

-

$

132
Check Rates for

Hostel Archi Rossi

Checking Rates for

Hostel Archi Rossi

No availabilityLowest price:
EuropeanHostels is currently checking rates for your dates

The Basics: Hostel Archi Rossi email this page
The Hostel Archi Rossi offers private doubles and singles, family rooms, and dorms with or without private bathroom facilities. All hostel guests get free Internet access, free breakfast, and free hostel-run walking tours. The Archi Rossi offers "home cooking" at reasonable rates. Lockers and laundry service are available.
Average Guest Ratings
Our users' reviews
"Archi Rossi - everything my friend said it would be and more."
On 1 July my wallet was stolen in Pisa railway station. I carried on to Florence, and to Archi Rossi Hostel where I received much support, language-wise and contact-wise, reaching Global visa for an emergency card and more importantly to me, personal support as I was travelling alone. That meant a lot to me. I spent 4 nights, enjoyed their extensive free use internet facilities to contact my family and research other hostels in other countries and train connections, their beautiful little green courtyard, all the facilities I needed, the unique 'artfest' covering their walls and the clean and secure hostel. I'm just sorry that I missed their free evening pasta meals during most of the week they were advertised. The free breakfasts were yum and very efficiently served. I said when I left there on 5 July, that my accommodation was all downhill from there and I was right. Even the hotels were a poor second. Hostels have far more facilities to suit the freelance traveller on a Eurail pass seeking ongoing accommodation and train reservations, not to mention the cheaper rates. The woman 'manager' at Archi Rossi made the rest of my stay in Florence so much better - she proved that one bad experience overseas doesn't need to take over your holiday. Just beware nice young girls 'helping' you with your bag in railway stations. I was a bit sad my two friends who were in Florence part of that time could not join me in the hostel courtyard for a while as I was by myself, but I did understand the hostel rules that the place was for the guests only. My friends will still be intending to stay at ArchiRossi when they travel to Italy again, because of my good experience of international kindness - the staff speak great English too - made me feel I should try harder to learn Italian!
More Information
Hotel Address
Via Faenza 94 R
San Lorenzo, Florence, Italy
more information
Amenities
Hotel
Bar/Lounge
Bicycle Parking
Breakfast Included in Rate
Children Friendly
Concierge/Booking Services
Credit Card Payment Accepted
Elevator/Lift
Garden
Laundry Service
Luggage Storage
No Smoking in Hotel
Reception: Always open
Restaurant
Storage Lockers
Tourist information
TV Lounge
Vending Machines
Wake-Up Service
Wi-Fi (Free)
Room
Hair Dryer in Bathroom
Handicap-Access Room Available
Heat in room
Linen/Bedding Included
Mini fridge
Rooms with private bath
Rooms with shared bath
Soundproofed Windows
About the Hostel Archi Rossi neighborhood
San Lorenzo is a diverse, multicultural hood north of Florence's main train station. The majority of the city's immigrant population lives in San Lorenzo, making for a vibrant scene with plenty of international dining options. Head to this hood for the cheapest dining options in town.