Helpful Information: Rome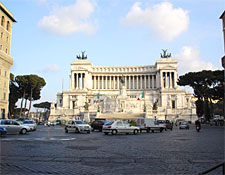 Want to know more about Rome? Follow these links.
Roma Turismo
The Roman Tourist Board has plenty to share with visitors at their site.
Met.Ro
The Roman Metro never looked as hip and practical as it does here.
Trambus
Leave it to the Italians to have a totally fun site dedicated to local bus travel.
Aeroporti di Roma
Mamma mia! Make the Roman airport easy with the official site.
The Colosseum
The Roman Colosseum was bound to have a fan site with a quirky logo. Ecco-la!
Vatican Museums
The Vatican has its own country and its museums have their own site.
Galleria Doria-Pamphilj
See the Doria-Pamphilj family's art collection for a price.