Rome Hostels: What You Need To Know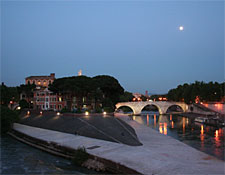 Wondering what to expect from hostels in Rome? We have the answers here.
Q. What is the Rome "hostel scene" like?
A. Rome hostels tend to be a pretty lively scene. Chances are, your hosts will go the extra mile to welcome you with classic Italian hospitality. Guests are often treated to a glass (or two!) of wine in the evening. This means that hostels in Rome tend to be on the louder side during the evening hours.
If you're in a "When in Rome" mood, check out the Hostel Beautiful 2, located a short walk northwest of the Termini Stazione, but if you're just looking for some quiet time after a hectic day, try the peaceful, residential Hotel Lodi (a short bus ride southeast of Termini) or the charming, traditional Independence Square Inn to escape Rome's daily madness only a short walk north of Termini.
Q. How much do hostels in Rome cost?
A. Hostels in Rome operate on the same rule as hostels in most cities: the less privacy you need, the less you'll pay. The cheapest options involve booking one bed in an eight or ten-bed dormitory, where (during the high season) you'll be sharing your space with other travelers. (The BellaRoma Hostel, next to St. Peter's Square and the Vatican, offers a deal from the last century – beds from €10 a night!)
If you're traveling with some friends and with a little foresight, you can book ahead to reserve all the beds in a room, thus making it your own private room. Most dorms, whether they have four, six, or eight beds, charge about €20 per person per night. Many hostels offer double and twin-bed private rooms, usually for €30 to €40 per person per night.
A few hostels offer single-bed private rooms, though of course these are more expensive – usually around €60. (For maximum privacy at a minimal price, take a look at the M&J Hostel, where you can have your very own room just a short walk north of Termini for only €35!)
Similarly to visiting Paris, if you're willing to shell out a bit more money you should consider Rome's budget hotel scene. You can find one- and two-star hotels in Rome with rates that are quite similar to hostels -- and you'll get a bit more privacy. A good resource for finding quality, central cheap hotels in Rome is EuroCheapo.com.
Q. What do I get for my money?
A. Roman hostels almost always have phone and internet service (free or for a small charge), TVs, DVD players, cafés or bars, storage lockers, common rooms, English-speaking staff, city maps and guides, and laundry and kitchen facilities. Many hostels also include a continental breakfast free of charge. It's also important to know that the price of a bed may not include sheets to go on top of it! (You can often bring your own sleeping bag or rent sheets for a couple extra euros at the front desk.)
Q. What are the cancellation policies?
A. When you book through europeanhostels.com, hostels will keep your 10% deposit (paid when making a reservation) in the event of a cancellation or no-show. Additionally, hostels may charge for the first night if you cancel within 72 hours of check-in.
Q. What else can I expect to find at a typical Roman hostel?
A. Still can't decide where to stay? See if some of these perks make your decision clearer.
At the Funny Palace Hostel (a short walk north of Termini), the staff welcome you with a free bottle of Italian wine as soon as you walk in the door.
The Hotel Lodi offers a sunny backyard garden so its guests can finally get some peace and quiet.
You'll find unprecedented hospitality at the Hostel Lella, a short bus ride north of Termini, where the manager Ali will stop at nothing to ensure that you enjoy your stay.
The Hostel Beautiful 2 has been known to offer its guests a free homemade pasta (and wine) dinner!
The 1 Step From St Peter (near the Vatican) offers a 7th-story rooftop apartment for rent, complete with its own bathroom, kitchen, and huge solarium with an unbeatable view of Rome!
Q. Where are most hostels in Rome located?
A. As soon as you step out of the central Termini train station, you will be overwhelmed by the myriad hostels to choose from. Indeed, most Roman hostels and cheap hotels are located in the bustling streets to the North and South of the train station.
Many of the hostels in this area are offering just the basic amenities – and the cutthroat competition between them means you can't beat the price. (Watch out for the occasional yucky bathroom, though!) This area is more convenient than beautiful, although it does have its own undeniable character. We recommend the nearby Papa Germano (Via Calatafimi 14/a) and the affordable private apartments at the Blue Hostel on the Via Carlo Alberto.
For a less hectic Roman experience, cross the Tevere River and head toward the Vatican. The area to the North of St. Peter's Basilica offers several good hostels in a clean, attractive, quiet, neighborhood that's also its own country! (The Vatican). For a good night's sleep around here, check in to the 1 Step From St. Peter Hostel on the Via Giovanni Bettolo or the Colors Welcome B&B on the Via Palombini.
Q. Where are the "official" hostels in Rome located?
A. We're sorry to report that there is only one official youth hostel in Rome - the YHA Ostello di ROMA - Foro Italico A.F. Pessina, but with 380 beds, it does the trick. The good news about the location is that its very close to the Olympic Stadium, the iconic Ponte Milvio, and the Vatican. The bad news is that it's no less than four kilometers north west of the city center, and to get there you have to take a train and then a bus.
Q. Do Rome hostels have curfews?
A. Some of the hostels in the more residential areas of Rome do have curfews for their guests, but most of the city hostels do not. A hostel's property description will always tell you whether or not they impose a curfew.