Rome City Information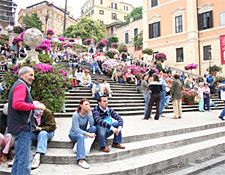 When in Rome, it's best to know where things are. Read on to get a hang of the hoods.
City Layout

Rome is situated around the Tiber River, which snakes its way from north to south, dividing the city in two. On the left bank, the Vatican City and Trastevere neighborhoods sit, while on the right, the Piazza di Spagna sits to the north, Piazza Navona to the west, and the Train Station to the east. You can walk from one side to the other, though buses and a (limited) subway system make the trip easier. 

Hostel Overview

You have a lot of choices in Rome: the Colosseum or the Vatican, the Spanish Steps or the Pantheon, a ruin or a discoteque, pasta or, well, pasta. The hostels are no different. They vary in price, location and cleanliness, but above all, availability. If you research your choices, prioritize, and book 'em now you can rest assured. Failure to do so may mean sharing a bed!