A Venice Fish
Editor's Pick
Hotel Address
Campo de la Maddalena, Cannaregio 2205
Venice, Italy
Average guest rating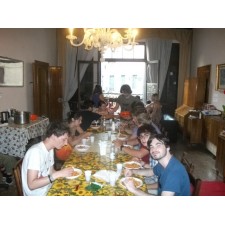 Check Rates for

A Venice Fish

Checking Rates for

A Venice Fish

No availabilityLowest price:
EuropeanHostels is currently checking rates for your dates

The Basics: A Venice Fish email this page
What could get better than this? Situated out of a 16th-century palace in Venice's Cannaregio district, the A Venice Fish Hostel offers up cheap beds (some with a gorgeous, canal-side view) and free breakfast and dinner every night.

Female-only and mixed dorms are available, all with shared bathrooms. Blankets and pillows are provided, but bring your own sheets or sleeping bag. Free Wi-Fi, 24-hour hot showers, an all-day tea and coffee buffet (don't forget breakfast and dinner!) are included in the nightly rate too.

The hostel has a common room, bar and a terrace that overlooks the water. There's no curfew.
Average Guest Ratings
Our users' reviews
"Great!"
A Venice Fish was great. Pasta was served for dinner, FOR FREE as well as breakfast. The people who work there were great, very fun as well as all the other guest. It was a good experience...
"If you drink like a fish, by no mean miss The Venice Fish"
Just kidding, you could also be a sober and have a wonderful time at this warm and fun place. This was my first time in a hostel. I did not know what to expect, but from the very moment I walked in I was checked in by Nina, whom I ended loving and appreciating so very much!. Every night after pasta dinner, that was shared with young and not so young people from all over the world, Nina took us out to a near by bar for drinks, after wards we all went dancing in a club near by the VF. Ali and Jess, the other two people that work there, cannot be more fun loving and available people. I am a 64 years old grandmother and this is way up in the most regarding and wonderful experiences of my life. So if you enjoy the company of young beautiful people and want to have a new perspective in life possibilities do not miss The Venice Fish, the people that work there make this a very especial place. This is a fun and warm place to be. Thank you Nina, Ali and `j.
"Brilliant!"
If you are in the least bit sociable, this place is well worth forking out for - and for Venice, the price isn't all that high anyway. I had one of the best weeks of my life here. Cannot recommend it strongly enough. I miss Venice and I miss the hostel staff so much! Can't wait to go back.
"Good place to make friends"
This hostel had a great common room which made it easy to meet people. This along with dinner and breakfast included made it an enjoyable stay. The people that run it were cool and made sure we were looked after.
"Best Ever"
A Venice Fish was absolutely fantastic. The owners took us out every night and to the beach during the day. They even made breakfast lunch and dinner for everyone in the hostel. It was by far the nicest hostel I stayed in in Europe.
More Information
Hotel Address
Campo de la Maddalena, Cannaregio 2205
Cannaregio, Venice, Italy
more information
Amenities
Hotel
Breakfast Available (charge)
Laundry Service
Luggage Storage
Restaurant
Tourist information
Wi-Fi (available)
Wi-Fi (Free)
Room
Linen/Bedding Included
Towels
About the A Venice Fish neighborhood
Located on the north side of Venice, Cannaregio is home to many of the city's best cheap sleeps. The hood also hosts the former Jewish Ghetto and the strikingly ornate Ca d' Oro palace. Cannaregio is bordered by the train station and the Rialto Bridge.