Shelter City
Hotel Address
Barndesteeg 21 1012 BV
Amsterdam, Netherlands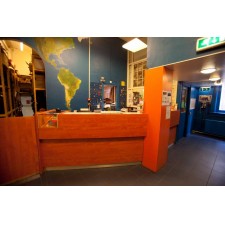 Check Rates for

Shelter City

Checking Rates for

Shelter City

No availabilityLowest price:
EuropeanHostels is currently checking rates for your dates

Hostel Description email this page
Shelter City is a Christian hostel that's centrally located near Amsterdam's Dam Platz and most major sights. It's a friendly place with lots of cheap-and-cheerful room types on offer.

Guests can choose between private suites and dorms; all are single-sex and have their own bathroom. Linens and breakfast are included. Dorms can accommodate up to 16 people.

If you want to go for a spin around the city, you can rent a bicycle here. In addition, there's a game room with foosball and boardgames. Luggage storage and free Wi-Fi are available. Please note that the entire hostel is substance-free.
Our users' reviews
"What would Jesus really do?"
Our stay at the hostel began with utter disappointment as we walked up to the hostel only to find out it was christian, something they failed to advertise in the description when we booked it. When we checked in our reservation was messed up, so instead of the four bed room we booked, my party got split up into two of us in one room and another by themselves in a different room. Later we found out we weren't the only ones screwed over by these incompetent 'christians'. Not only is the 2:00 a.m. curfew a pain in the ass (we were forced to stay in the hostel of a nazi drug lord one night because we stayed out too late...would jesus really want us out on the streets in danger?) but the annoying droning on of terrible christian music in the cafe while we ate our mediocre breakfast was hardly palpable. Not only was one of my friends kicked out of her room and into mine the day before we left (they stripped her bed while we were gone one day) because the people working there don't know how to check people in but their attitudes of being an Im-better-then-you-christian is appalling and I urge anyone to reconsider their stay here.
"Nice hostel"
this is a good hostel but we found out that it is a christian hostel which might be a problem for some
"Great location"
Great location, right behind red light district. The rooms are not that good...
More Information
Hotel Address
Barndesteeg 21 1012 BV
Red Light District, Amsterdam, Netherlands
more information
Amenities
Hotel
Bar/Lounge
Bicycle Parking
Bike Rental Available
Breakfast Included in Rate
Credit Card Payment Accepted
Fax Available
Internet Station Available
Luggage Storage
Reception: Always open
Restaurant
Storage Lockers
Swimming Pool
Tourist information
Wi-Fi (available)
Wi-Fi (Free)
Room
Linen/Bedding Included
Towels
About the Shelter City neighborhood
Situated within Amsterdam's Old Center, the Red Light District is perhaps the city's most infamous neighborhood. Yes, you will find sex shows, shops selling marijuana, and plenty of red lights, but there are some more traditional attractions on offer here as well: the Oude Kerk ("Old Church") and trendy shops balance out the racy vibe. Plus, a significant police presence keeps things safe.