Helpful Information: Barcelona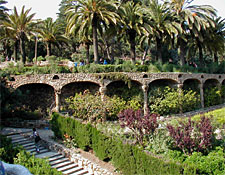 These links will have you dreaming of Gaudi, paella, and beaches. Don't say we didn't warn you.
Turisme de Barcelona
Don't forget to pronounce that soft 'c' when checking out everything a tourist would (and would not want to do) in Barcelona.
Picasso Museum Barcelona
Check out Picasso's best stuff off a tiny street in Barcelona.
Temple Expiatori de la Sagrada Familia
Too bad Gaudi never got to finish this incredible feat of architecture.
Catedral de Barcelona
The site might not look like much, but the cathedral is.
MACBA (Modern art museum)
Spanish modern art has an internet face on the MACBA.
Barcelona Metro
Get a discount card to the Barcelona Metro before you hit the town.
Barcelona Ferrocarril
This is the official place to find out everything you need to know about Barcelona's Ferrocarril.
Barcelona Airport
Barcelona's airport site provides lots of useful information.