Barcelona Hostels: What You Need to Know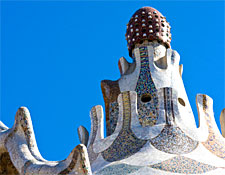 Never been to Barcelona? Never stayed in a Catalonian hostel? Never fear: We have the info you need.
Q. What is the Barcelona "hostel scene" like?
A. Barcelona hostels, just like the Catalonians who run them, tend to be fairly social and lively. Many hostels organize their own nighttime events, and it's not uncommon for hostel staff to take guests out on the town! If this sounds like fun, check out the aptly-named Downtown Paraiso Hostel, located near La Boqueria Market and Las Ramblas.
On the other hand, there are a bunch of hostels in Barcelona that have policies against drunken revelry. But many of them still manage to be a lot of fun. The Mambo Tango Backpackers Hostel, for example, boasts an international crowd, super friendly staff, and a very chilled-out atmosphere in spite of the enforced nightly quiet hours.
Q. How much do hostels in Barcelona cost?
A. Most Barcelona hostels charge around €18 - €20 per night per bed in a mixed dorm. Dorms vary in size – from rooms with three beds to rooms with 18 or 20 beds – and the bigger the dorm, you guessed it, the lower the price. The cheapest hostel we've come across is the INOUT Hostel in Collserola Park, a ten-minute subway ride from Barcelona's city center, with beds for just €9 per night.
If you're traveling with one or two friends, consider booking a private room, which will cost only a little bit more. The Downtown Paraiso Hostel (see above) offers private doubles for €55 per night (or €27.50 per person). Some hostels even offer private single rooms, though these often start at €50 or €60. The sleek, modern Hostal Gat Raval (right in the middle of the action of El Raval) offers private singles for just €44 a night.
Q. What do I get for my money?
A. Like most European hostels, Barcelona hostels almost always have available phone and internet service (free or for a small charge), TVs, DVD players, cafés or bars, storage lockers, common rooms, English-speaking staff, city maps and guides, and laundry and kitchen facilities. Breakfast is usually included in the price of a bed, although linens and towels are occasionally a couple extra euros.
Q. What are the cancellation policies?
A. When you make a reservation through europeanhostels.com, the hostel will keep a 10% deposit (paid at the time of booking) in the event of a cancellation or no-show. Additionally, hostels may charge for the first night if you cancel within 72 hours of check-in.
Q. What else can I expect to find at a typical Barcelona hostel?
A. Well, here are a few highlights of some noteworthy Barcelona hostels:
The 400-bed Centric Point Hostel (located next to Catalunya Square) offers fun organized events for its guests, including a "Tapas Tour"
The party-hearty Sea Point Hostel is quite literally "on point" – er – on the beach
The 160-bed Barcelona Mar, located in the Barri Gotic, has its own bicycle rental station
The colorful Gothic Point Hostel, a short walk from Las Ramblas, has free broadband internet, free breakfast, a superb "Flamenco Tour," and a gorgeous rooftop terrace
Q. Where are most hostels in Barcelona located?
A. Most Barcelona hostels are located in the old town, within walking distance of Las Ramblas and the Barri Gotic (Gothic Quarter). Las Ramblas, which runs from the port to the iconic Catalunya Square, is a bustling boulevard full of tourists, peddlers, pickpockets, cafes, taxis, restaurants, and revelers. The Barri Gotic, home to the city's 13th-century cathedral, is characterized by dark, winding, narrow streets, and comprises what many consider to be the center of Barcelona. The Barri Gotic tends to be a quieter place to stay than Las Ramblas.
Just west of Las Ramblas and the Barri Gotic is the former working-class district of El Raval, much less touristy than its neighbors and with much fewer iconic sights to photograph. El Raval might not be for everyone. It's the city's version of a red-light district – seedy and bohemian – but with hip boutiques and tasty Middle Eastern food. The northern area of El Raval, in particular, boasts nightclubs, cafes, and funky galleries. From Las Ramblas tourists can easily follow signposts to the MACBA museum, and on to the more gentrified parts of the neighborhood.
There are plenty of hostels in the vast, grid-like, bourgeois neighborhood known as the Eixample ("enlargement"). This area is heavily-trafficked, modern, and an upscale paradise for shoppers and architecture-gurus alike. Rife with extroverted Art Nouveau pride, it's also home to Antoni Gaudi's must-see Sagrada Familia cathedral. Hostels located here are within easy walking distance from the Barri Gotic.
Hostels situated outside of the above-mentioned neighborhoods will likely be cheaper, but farther from the city's action. That being said, if they're anywhere near a Metro station, getting around the city should be relatively quick and easy, whereas hostels that require a bus ride might not be worth the effort.
Q. Where are the official hostels in Barcelona located?
A. The 220-bed Mare de Deu de Montserrat is located in a modern building just a 15-minute metro ride from Barcelona's city center (L3, Vallcara station), near the Botanical Gardens. Not necessarily in the heart of the action, the Montserrat offers a 150-person auditorium, making it better for business conferences than backpacking. The hostel is locked between midnight and 7AM – staff open the door every half hour during this time.
The 200-bed Center Ramblas Hostel is just a five-minute walk from Barcelona's main downtown areas, like Las Ramblas and Catalunya Square. The Ramblas has three, four, five, six, eight, and ten-bed dorms available for €15.50 per bed per night (no matter how big the dorm). Twenty-four hour reception is available and breakfast is included in the price.
The 160-bed Barcelona Mar (located near the Rambla del Raval in the Barri Gotic) offers private doubles for €60 and a range of mixed dorms for approximately €16 per bed per night. Breakfast and internet access are free. Its location is very good, but can feel slightly dodgy at night due to the neighborhood's "red light" reputation, though in reality crime rates are low. The hostel is handicapped accessible and has no curfew.
The 158-bed INOUT Hostel (see above) is located in the bucolic Collserola Park, a 25-minute subway ride north of the city center (S1, S2: Baixador de Vallvidrera). It may be a little far-flung, but you can't beat the price at €9 a bed. (All rooms are mixed dorms, with between four and ten beds.) Plus, the remote location means there's all manner of recreational activities, including basketball, soccer, tennis, ping-pong, and pool tables. Reception is open 24 hours. Laundry and internet are available, and the hostel even boasts its own disco! Might be worth the trip after all…
The 240-bed Pere Tarres Hostel is located in Les Corts, the financial center of Barcelona, just outside the fashionable Eixample (pronounced uh-SHAHM-pluh), a ten-minute walk to Sants station. The Pere Tarres has singles, doubles, and six and eight-bed dorms available. Its restaurant provides breakfast, included for guests, and there's also a fully-equipped kitchen on the premises. Prices run about €21 per bed night.
Q. Do Barcelona hostels have curfews?
A. Especially in a city like Barcelona, where at least half the action takes place late at night, very few hostels impose curfews on their guests. If you know you'll be in early most nights and like your peace and quiet, try the suburbanMare de Deu de Montserrat, which locks its doors at midnight, or the Mambo Tango Backpackers Hostel (see above) which has no curfew but enforces quiet hours nightly.