Venice Hostels: What You Need to Know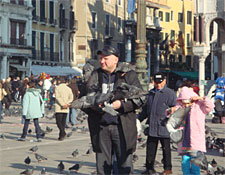 Don't book a hostel without reading our guide to the accommodation scene in Venice. We'll let you know what to expect.
Q. What is the Venice "hostel scene" like?
A. As in most European cities, the Venice hostel scene swings from the young and social to the quiet and private. There are a handful of options on both ends of the spectrum, and of course plenty of places somewhere in the middle.
If you're looking to meet people and sample a glass or two of Italian wine, try the Venice Fish Hostel in convenient Cannaregio. Not only can you drink at the local bar with fellow hostellers, but the hostel owner makes a homemade breakfast and dinner for guests almost every day of the week, which makes for a pleasant family-style atmosphere.
If you're looking for a hostel a bit more on the introverted side, try the B&B San Paolo hostel, just a short walk north of the Rialto Bridge, and also within walking distance of the train station. With just a few single and double private rooms available, the San Paolo is a cozy and cute mom and pop establishment. The San Paolo is ideal for travelers looking for peace and quiet at the end of the day.
Q. How much do hostels in Venice cost?
A. Venice is an expensive city compared to other European destinations, and so hostels here do not come cheaply. The typical bed will cost €20, which is a good deal in this town. The good news is that you can stay in very central locations for €20 a night. Moreover, Venice hostels don't seem to do the whole "dormitory" thing like other European cities. That means your €20 will often get you more privacy than usual.
If you are able to spend a little more, look into some of the more upscale options for luxurious perks. If you're traveling with a friend, €30 each will get you a private room with two beds, internet, satellite TV, climate control, and a Jacuzzi at the Ca Centopietre hostel in the beautiful and convenient Dorsoduro neighborhood.
Q. What do I get for my money?
A. Venice hostels almost always have phone and internet service (free or for a small charge), TVs, DVD players, cafés or bars, storage lockers, common rooms, an English-speaking staff (sometimes), city maps and guides, and laundry and kitchen facilities. (Some of the smaller guesthouses may lack some of these amenities.) Many hostels also include a continental breakfast free of charge.
Q. What are the cancellation policies?
A. When you book through europeanhostels.com, hostels will keep your 10% deposit (paid when making a reservation) in the event of a cancellation or no-show. Additionally, hostels may charge for the first night if you cancel within 72 hours of check-in.
Q. What else can I expect to find at a typical Venice hostel?
A. At the Casa Rezzonico hostel in the former Bohemian quarter of Dorsoduro, you'll find exquisite oriental rugs underfoot, and gorgeous, floral quilts that come in deep sky blue, creamy red, and mossy green. The beds are complimented by chunky dark wood antiques, including massive armoires, side tables, and desks. Bathrooms are large with rustic tile detail and gigantic showers.
At the aptly-named Il Diamante hostel, right in the San Marco neighborhood (a short walk from the Rialto Bridge), guests stay in ultra-modern rooms with TVs, air-conditioning, and bathtubs that include a "massage" function. Breakfast is brought to your room on a silver tray.
The Venice Fish hostel in Cannaregio (see above) not only features homemade breakfasts and dinners but also has a great balcony for smokers, where you can catch great views and the ever-entertaining spectacle of the gondolas loading and unloading their passengers
Q. What are Venice's main neighborhoods?
A. As you leave the train station and head down the main street heading northeast into the Cannaregio neighborhood, you'll find lots of available hostels. There are loads of affordable places to eat and sleep in Cannaregio, and many of them are designed simply to separate visitors from their money. That being said, it's a convenient, easily-navigated neighborhood with some great hostels, like the Venice Fish hostel and the Locanda Casa del Melograno.
If you cross the bridge from the train station into the Santa Croce neighborhood, you'll find a relaxed neighborhood with mixed architecture – both Medieval and modern. A great hostel in Santa Croce is the Casanova ai Tolentini.
A bit further southeast, and a bit closer to historic San Marco, you'll find the San Polo neighborhood – also relatively affordable, with its local flavor still fairly well-preserved. During the day, San Polo is known for its open-air and fish markets, whereas during the evening hours you'll find no shortage of wine bars with tasty reds, whites, and Proseccos available by the bottle or glass. More bustling than Santa Croce, but more relaxed than San Marco, the San Polo area is an ideal location for many travelers: try the Bed and Breakfast Happy Venice for affordable private rooms in a small pension that's especially good for couples.
Further southeast, across the Grand Canal, you'll find the San Marco neighborhood, home to Venice's major attractions. Windy streets, crowds of tourists, pricy restaurants, gorgeous churches (like St. Mark's Basilica), the unforgettable Rialto Bridge, and the iconic St. Mark's square make San Marco a must-see for any visitor to Venice. Hostels in this neighborhood definitely come at a higher cost than elsewhere in the city. Southern San Marco, however, tends to be more manageable, and still boasts some pretty sweet sights – see how you like the San Stefano church…
South of San Polo and San Marco, you'll find the former Bohemian and current student hangout of Dorsoduro. Home to Venice's university, the Accademia art museum, the Peggy Guggenheiem museum, and a handful of smaller galleries, Dorsoduro is both attractive and culturally interesting. There's a good late night scene around the Campo Santa Margherita and the University Ca' Foscari. Check out the Ca' Centopietre hostel – a gorgeous hostel where some of the rooms have Jacuzzis – a short walk from the Accademia bridge leading to San Marco.
Further east of San Marco you'll find the Castello neighborhood. Castello is large (and largely affordable) and still perfectly convenient for walking to and from San Marco. Castello is home to the Arsenale Naval Museum and a large number of Venice's full-time residents. There's not much night-time excitement for visitors, but good restaurants and bars aren't far off. Check into the luxurious Tribute to Music hostel's beautiful rooms (with stunning views) and redefine the way you think of hostels forever.
Q. Where are the "official" hostels in Venice located?
A. The non-profit membership organization Hostelling International operates only one hostel in the city of Venice (there are a few others in the greater area). It's called the YHA Ostello della Gioventu, and is located on the island of Giudecca, just across the canal from the historic San Marco neighborhood.
With 254 beds in total, the YHA is one of the largest hostels in the city – the dorms at the YHA Gioventu have no less than 32 beds in each. Dorms are segregated by gender. Private rooms are also available at higher cost. Non-members are charged €3 extra per night, although guests automatically become members after six nights. Breakfast is included, but leaves much to be desired.
Q. Do hostels in Venice have curfews?
A. Some of the quieter bed and breakfasts in Venice may have curfews, but most of the city's hostels do not. A hostel's property description will always tell you whether or not they impose a curfew.