Free Things To Do in Venice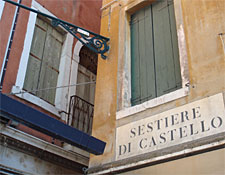 Venice is an expensive city, though some free churches and discount cards can keep things to a budget. Read on to learn more.
Discounts
The Venice Card can save you money at on Venetian attractions. Take your pick; Will you buy a card for one, three, five or seven days? The 'blu' card gets the buyer onto buses and vaporetti. It also includes a daily reduced rate of €6.70 per day at the parking garage. And, most important of all; the card includes free use of public toilets. Drink up! The 'orange' version of the Venetian Card adds to the above perks access to certain museums at a reduced rate. It also means the luxury of standing in shorter lines at entrances designed especially for card holders. How V.I.P.! Check out www.venicecard.it for more information.
Free Attractions
The entertainment factor of just walking around Venice is something to behold. For most tourists, every street bridge, canal, water taxi, clock tower and elevated walkway is a sight onto itself. And, they aren't in any museum.
Some of the more famous free sites include the Basilica di San Marco. St. Mark's is the edifice on the famous square of the same name. Entrance into the main part, the general basilica, is wonderfully free. However, The Treasury and St. Mark's Museum require an entrance fee.
The church of Santa Maria della Salute also provides priceless privileges. The 17th-century Baroque wonder is found almost directly across from St. Mark's, sitting at the point where the Grand Canal meets the lagoon. Volutes, scrolls and 125 statues are certain to impress.
The SS. Giovanni e Paolo is a mammoth Gothic church built between the 13th and the early 15th centuries. Ancient pieces display next to the unofficial Pantheon. This is where 25 doges are buried. The definition of a 'doge' isn't quite as unusual as St. Catherine of Siena's foot encased in glass.
And, not surprising to people who have seen dozens of photographs depicting the event, Venice is host to one of the most visually fantastic Mardi Gras celebrations in the world. This is finally your chance to disguise your tourist self with a mask and a feathered gown.