Venice City Transportation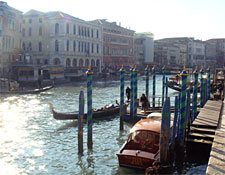 Venice is famous for its ferries and gondolas. We'll show you how to keep to a budget while getting around town.
Walking
With all the canals of confusion, this town is made for walking. The jig-saw puzzle layout of this town is more of a challenge of logic than physicality. The city lies down the planks for people to use when it floods, so bring your boots during the rainy seasons in fall and spring. As one can imagine, this city is quite an obstacle course for the disabled. Call Informa Handicap at (39 041) 534 17 00 for more information.
Ferry
The Vaporetti, public ferries, run up and down the Grand Canal flowing through the center of town.
Vaporetti
60-minute ticket: €6.50

12-hour pass: €16

24-hour pass: €18

36-hour pass: €23

48-hour pass: €28

72-hour pass: €33
Visit http://www.actv.it/english/ for more information
Traghetti
Single crossing: €.50
Private Ferries
Anek Lines is one of the largest private ferry operators in Venice.
More information at: Anek Web site
Gondola
C'mon, you know you want to ride one of the boats you've seen in every other picture of Venice including the one you want to take of yourself.
40 minutes (up to six passengers): €80

Extra 20 minutes: €40

40 minutes after dark: €100

Extra 25 minutes after dark: €50
Airport
Airport information at: www.veniceairport.it.
Note: All prices were accurate when compiled. Please check the Web sites listed for the most up-to-date information.