Helpful Information: Venice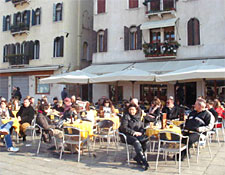 It's smooth sailing in Venice, provided you do your research and check these links.
Venezia
The Venice Tourist Board greets visitors with pictures of Mardi Gras masks and gondolas.
Venice Card
Make this expensive city a little less so by buying the Venice Card.
Municipality of Venice
The City of Venice is far from sinking on this site dedicated to tourists.
Accademia Gallery
Don't confuse the Accademia Gallery in Venice with the one in Florence of the same name. End the confusion here.
Peggy Guggenheim Museum
Peggy Guggenheim was one lucky lady. Check out her gorgeous art museum on the water across from St. Mark's Square.
Santa Maria Gloriosa dei Frari
The Church of the Frari has a lovely site. Check it out here.
Portale di Venezia
The Carnivale of Venice is abuzz all year long with this site dedicated to its cause.