Getting into Paris
We'll give you all the info you need to get into Paris from the airport or the train station.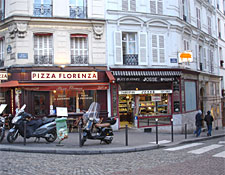 Train Stations
Traveling to Paris by rail couldn't be easier. Metro stations are located within each of the city's six train stations and provide cheap, convenient transportation.
Gare du Nord in the northeast of the city handles traffic from many international routes, including Eurostar and Chunnel lines. Gare de l'Est is just down the street on Boulevard de Magenta, and Gare Saint Lazare is located in the center of the city north of the Tuileries Gardens. The remaining three stations receive trains arriving from points south of Paris. Gare de Lyon and Gare d'Austerlitz are just across the Seine from one another east of Ile de la Cité. Gare Montparnasse is located in the Right Bank just southeast of the Eiffel Tower.
Bus Station

Paris's international coach station Gare Routière (28 avenue du Générale-de-Gaulle, Bagnolet) is twenty minutes from the city center on line 3 from Metro station Galliéni.
Airports

Paris is serviced by three airports, all of which receive budget airlines from multiple departure cities. While the commute from both Charles de Gualle and Orly airports to Paris is short, Beauvais Airport is a daunting 77km (48 miles) from the city center. Charles de Gaulle and Orly are both connected to Paris via the Metro and the RER (the extended metro system to the suburbs). If you're looking to snag a good airfare deal into any of these airports, we recommend searching for cheap flights with CheapoAir.
Charles de Gaulle
To catch an RER train into Paris, take the free shuttle to terminal 3. A ticket to Paris on the RER costs €8.20 and is valid for an unlimited number of transfers on the Metro system. To return to the airport, take the Line B on the RER towards Roissy/Charles de Gaulle.
RATP buses run to Place de l'Opéra from 6 AM until 11 PM. The fare is €9.10 one-way, and the journey takes 45 minutes.
The Air France bus doesn't stop at terminal 3 at Charles de Gaulle (where most budget flights arrive), but terminals 1 and 2 are serviced by Line 2 to Porte Maillot and Arc de Triomphe (€13 one-way, €20 roundtrip) and Line 4 to Gare de Lyon and Montparnasse (€14 one-way, €22 rountrip).
Expect to pay €40 for a taxi from Charles de Gualle. Additional cost alert: you'll be charged €.90 for each item of heavy luggage, and €5 is added to fares beginning after 7 p.
Orly
For RER train service into Paris, take the elevated Orlyval metro shuttle to the Antony RER station and then transfer to Line B on the RER. The fare to Paris is €9.10.
RATP buses are less expensive, €6 from Orly to Denfert Rochereau. The journey takes 30 minutes, and buses depart every 15-20 minutes.
From Orly, Air France's Line 1 bus runs to Montparnasse and Invalides (€10 one-way, €14 roundtrip) and will stop at Porte d'Orléans or Duroc on request. The bus runs regularly between 6 AM and 11:30 PM.
Taxis run about €25 from Orly. As with travel from Charles de Gaulle, supplemental charges for luggage and night travel apply.
Beauvais
Beauvais is not connected to the Metro or RER systems. Your only option at Beauvais is the €14 Ryanair bus, which runs according to Ryanair's flight schedule. Buses depart from Paris-Beauvais-Shop on Boulevard Pershing near the Porte Maillot Metro Station 2-3 hours before scheduled departing flights. Ryanair buses depart Beauvais 20 minutes after flights arrive.