Paris City Information
Read our guide to Paris' layout to keep your arrondissements straight.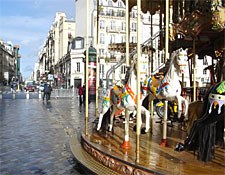 City Layout

Two beautiful islands, the Ile de la Cite and Ile St-Louis are smack-dab in the center of Paris (and house the Cathedral of Notre Dame, among other sights), and the river Seine, running east to west, splits Paris into two large regions: the Rive Gauche (Left Bank) to the south and the Rive Droite (Right Bank) to the north.

In the more bohemian and intellectual Left Bank you'll find the Latin Quarter, St. Germain Des Pres, and the Eiffel Tower. In the ritzy Right Bank you'll find Chatelet, the Louvre, the Marais, Montmartre, and the Opera District. If you're looking for universities, palaces, and a famous tower head south. Otherwise, for those of you looking for Mona Lisa, the Hunchback, more museums, operas, gay spots, or smoky jazz bars, head north. 

Hostel Overview

You shouldn't have a problem finding a bed in Paris. As long as you're not expecting luxury, you'll have tons of options. There are hostels everywhere-both in the center and suburbs-and the superb Parisian metro system will ensure an easy commute. But keep in mind that it's hard to find a cheap sleep in Paris, so if you're a 'bang for your buck' traveler it may be best to head for the HI-affiliated options. Sure, they're further out, but at least you'll be hanging on to your euros.