Paris Hostels: What You Need to Know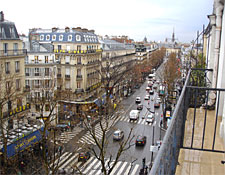 Here, we dish on Paris' hostel scene. Read on to learn what to expect.
Q. What is the Paris "hostel scene" like?
A. Paris hostels run the gamut from quiet, cozy guesthouse in a residential neighborhood to party central hostels that have their own disco club in the basement. Try the Perfect Hostel for a perfectly relaxing and peaceful Parisian stay. On the other hand, check out the FIAP Jean Monnet for disco fever, or the 3 Ducks Hostel to sample their 20 different kinds of beer on tap in the hostel pub. Naturally, there are also all manner of hostels in between these extremes, depending on what level of socializing you're looking for.
Q. How much do hostels in Paris cost?
A. Hostels in Paris operate on the same rule as hostels in most cities: the less privacy you need, the less you'll pay. The cheapest options (usually around €18) involve booking one bed in an eight or ten-bed dormitory, where (during the high season) you'll be sharing your space with other travelers. (The Friend's Hostel on the Boulevard de la Chapelle offers a great deal (for Paris): €16 beds in cozy three-bed rooms.)
If you're traveling with some friends, you can book ahead (with a little foresight) to reserve all the beds in a room, thus making it your own private room. Most dorms, whether they have four, six, or eight beds, charge about €25 per person per night. Many hostels offer double and twin-bed private rooms, usually for €30 to €40 per person per night.
A few hostels offer single-bed private rooms, though of course these are more expensive – usually around €60. (For maximum privacy at a minimal price, take a look at the Ethic Etapes la Residence Internationale de Paris Hostel where somehow they manage to rent private single ensuite rooms for €39 and still stay in business.)
If you're willing to spend a bit more more, you should also consider low-cost hotels in the city. A great resource for reviews of the cheap hotels in Paris is EuroCheapo.com. Many of their recommended hotels can be the same price as a hostel room (especially if you rent rooms with shared baths, or triples and quads).
Q. What do I get for my money?
A. Parisian hostels almost always have phone and internet service (free or for a small charge), TVs, DVD players, cafés or bars, storage lockers, common rooms, English-speaking staff, city maps and guides, and laundry and kitchen facilities. Many have a continental breakfast included, but don't expect anything fancy – this often consists of little more than baguette and coffee. It's also important to know that the price of a bed may not include sheets to go on top of it! (You can often bring your own sleeping bag or rent sheets for a couple extra euros at the front desk.)
Q. What are the cancellation policies?
A. When you book through europeanhostels.com, hostels will keep your 10% deposit (paid when making a reservation) in the event of a cancellation or no-show. Additionally, hostels may charge for the first night if you cancel within 72 hours of check-in.
Q. What else can I expect to find at a typical Parisian hostel?
A. Many Parisian hostels offer snazzy extras to woo travelers away from their competitors. The Absolute Paris rents bicycles. The Peace & Love Hostel offers guided daytime and nighttime walking tours in English and Spanish, including one to the Buttes Chaumont Park – the oldest park in Paris, complete with its own waterfall and a cave – an "unexplored part of Paris that normally tourists know nothing about." The progressive St. Christopher's Hostel offers a female-only floor called The Oasis. At the linguistically sophisticated Commines du Marais, the staff speak French, English, Chinese, and Cantonese.
Q. Where are most hostels in Paris located?
A. Paris hostels are located all over the city, but the speedy Metro system makes getting around a piece of cake, no matter where you are. The last two numbers of each hostel's zip code will tell you which "Arrondissement" (or neighborhood) it's located in. For example, 75002 is the 2nd Arrondissement, while 75013 is the 13th. The lower the number, the more central the hostel. But don't be discouraged by some of the higher numbers – there are great hostels, for instance, in both the 14th and 18th Arronds.
The Latin Quarter (5th Arrond.) is a fun and central place to stay (check out the Young & Happy Hostel on the rue Mouffetard). The lovely (and lively!) Montmartre neighborhood (18th Arrond.) is host to a large number of hostels in a picturesque setting. (We recommend Le Village Hostel for cleanliness and location – the Sacre Couer basilica is right outside your window!) If you're looking for something a little quieter, try Le Montclair Montmartre Hostel where you'll sleep well and yet won't be far from the action, either.
Q. Where are the "official" hostels in Paris located?
A. The MIJE association in Paris stands for Maisons Internationales de la Jeunesse et des Etudiants. They offer three hostels, all located in centuries-old former aristocratic mansions in the gorgeous Marais district (3rd and 4th Arrond.). These hostels are known for being very clean, safe, and well-maintained. They cater to large youth groups, though, so you may experience the annoyance of being in a hostel that is simultaneously unsocial and very loud. More professionally-run than Paris's independent hostels, the MIJE's are also known for being a bit short on character. Alcohol and cigarettes are strictly prohibited, even outdoors. Membership is compulsory, though it can be purchased at the front desk for €2.50. Rates are €29 for dorms with four beds or more.
First off, there's the MIJE Fourcy in a great location (6 rue de Fourcy) near the St Paul metro station and the Place du Vosges. The Fourcy has a mandatory daytime lockout while the staff cleans so you have no choice but to go explore. Secondly, and very near the first, there is the MIJE Le Fauconnier (11 rue du Fauconnier) also accessible from the St Paul metro. Thirdly, the MIJE Maubuisson – smaller than the first two – is located in a beautiful 13th century monastery at 12 rue des Barres near the Hotel de Ville metro.
The non-profit BVJ association (Bureau des Voyages de la Jeunesse) dates back to 1901, and hosts two hostels in Paris, the BVJ Louvre and the BVJ Latin Quarter. Both are in stellar, central locations. Both are very clean, nonsmoking establishments. Neither has a bar, and you must be under 35 to stay here! Staff will ask for photo ID at check-in. Breakfast and sheets are included, and both book large groups. Despite their classic locations, neither hostel is big on atmosphere. These places are functional and well-run but not necessarily unique. Rates are around €30 per person.
Q. Do Paris hostels have curfews?
A. Some of the hostels in the more residential areas of Paris do have curfews for their guests, but most of the city hostels do not. A hostel's property description will always tell you whether or not they impose a curfew.