Helpful Information: Paris
Here are some helpful links for getting in the Parisian mood.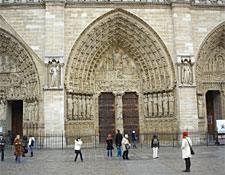 Mairie de Paris
Loads of Paris info from the government's General Information and Communication Department.
Aéroports de Paris
This site covers both Orly and Charles de Gaulle International Airports.
RATP
Public transportation in Paris is more than just Art Nouveau signs and the Métro.
Inter Musées
Buy a museum discount card for Paris here.
Louvre
Everyone has heard of the Louvre, but not everyone knows how big it is. Yikes! Make a game plan before your trip.
Centre Pompidou
Add a little Pompidou and circumstance to your itinerary.
Musée d'Orsay
Find out what's showing at the Parisien Musée d'Orsay before you go.
Musée Rodin
Mold some time into your schedule for sculptures at the Rodin Museum site.