Amsterdam City Information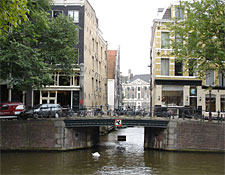 Before you book your hostel for Amsterdam (and certainly before you arrive in town!), it's best to understand how the city is organized and how the hostels are situated. Here's a quick look...

City layout

Amsterdam is a small city, but don't let its size fool you. The city is laid out along five concentric semicircles of canals: Singel, Herengracht, Keizergracht, Prinsengracht, and Singelgracht. The 'canal belt', a web of canals, may be confusing at first-but, only at first glance. The center of Amsterdam can be broken up into two general parts: The medieval central and its 'newer', or not-as-medieval, outskirts. The older part is encased by the Kloveniersburgwal and Singel canals.
The city's central spot is Dam Square, south of Centraal Station via Damrak, a bustling tourist street. Head west toward the red lights where you'll—surprise, surprise—find the Red Light District, or opt to hit the shops east of Dam Square, where you'll find Nieuwendijk, a pedestrians-only shopping street. If nightlife is what you're seeking head south toward Rembrandtplein and Leidseplein. Head further south and you'll run into the central museum spot, Museumplein and the up-and-coming old neighborhood of Jordaan.

Hostel overview

Hostels, tulips and many other wonderful things are in abundance in Amsterdam. With so many options you're allowed to be picky. Roll with the stoned, choose family fun with the HI option, or refrain from sex and substances in clean, well-managed 'Christian' hostels. If you're a light sleeper, avoid the bustling red light district. The best places for a quiet night are in the not-too-far outskirts of the city center. And, with an average cost of 14 - 20 Euros, you will be sure to have enough money for those nifty Dutch clogs!