Free Things To Do in Amsterdam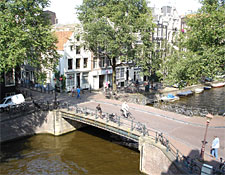 We have the scoop on free attractions in Amsterdam. Read on for our tips and learn about the city's museum card.
Discounts
The perfect investment for anyone planning to take advantage of 'Musuemland' is The Museum Jaarkaart (MJK). This discount pass allows admission to museum greats including the Anne Frank Huis, the Rijksmuseum and the Van Gogh Museum. The card is good for one year. The cost is €35 for adults and €17.50 for buyers under 25 years of age. 
Requiring a passport-sized photo, the card can be purchased at any of the participating museums. Don't fret; passport photo booths abound at the Centraal Station.
Free Attractions
The words 'free attraction' and 'Amsterdam' just seem to go together. The sights of surrounding canals, bicycles, skinny houses, bongs and wooden clogs are sure to provide a few photos for free.
Meet gorgeous winding canals and gaze up at gabled, historic houses marking the city to an exact point. A few of the many examples of recommended sights to see include Amsterdam's narrowest house at Singel 7, the glowing Red Light District at night (For adults only; not including sloshed, broke, obnoxious, loud adults!) and house boats everywhere. Not exactly free, but budget friendly, is bearing witness to the show whirling about in the coffee shops and bars all over town.
The Begijnof is a former home to nuns and windows starting in the 14th century. The grounds have both a Catholic and Presbyterian church, not to mention a beauty of a courtyard. The grandiose Westerkerk, built in only 10 years between 1620 and 1630, is proof of Dutch Renaissance resources.
Vondelpark is the city's central park near the Rijksmuseum and the Van Gogh Museum, is the place to have a picnic, share a smoke or roller skate with hundreds of your closest A'damm friends. Every Friday night at 8 p.m., hundreds of people on skates meet for a session snaking through the streets of Amsterdam.
If you are going to the land of tulips, you can't miss the Floating Flower Market. Fragrances float along the Singel canal from 9 AM-5 PM. Or, maybe the Waterlooplein flea market is your thing. A site for primarily clothing and furniture sales, it can be reached via the 9, 14 or 20 trams. Another good place to witness Amsterdam commerce in action is the Albert Cuypstraat market. It provides a more general selection including food, flowers and cosmetics.

All three markets are open Monday--Saturday, 9 AM-5 PM.