Amsterdam: Helpful Information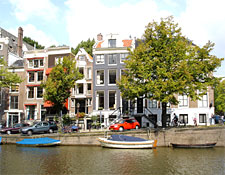 Need more help planning your trip? Check these sites for some great practical info.
Amsterdam Tourism and Convention Board
Find out everything you need to know about Amsterdam courtesy of Dutch experts.
I Am Amsterdam
It's bright, it's red, it's easy to read and navigate; plus lots of tourism info.
Rijksmuseum
This is the real deal when it comes to everything that's Rijk with art in Amsterdam.
Van Gogh Museum
See his paintings, hear his words, read the freaky letters Rembrandt wrote to his sister.
Rembrandt House
Proof artists have lived in small spaces for centuries and Rembrandt was no exception.
Anne Frank House
Find out how to get to Anne's early in order to avoid the crowds.
GVB public transport
Find out how to use the tram in A'dam at the GVB's official site.
Schiphol Airport
Schiphol is the official airport in Amsterdam and this site has all the pictures of the terminals, and helpful info, to prove it.
Mike's Bike Tours
Rent a bike in Amsterdam and look like a local.