Amsterdam Hostels: What You Need To Know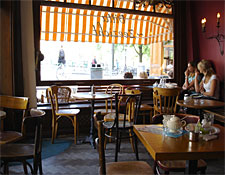 Going to Amsterdam for the culture or the counter-culture? Want to stay above a brothel or beside a tree-lined canal? Here's a quick overview of what you can expect from a hostel in Amsterdam.
By HUNTER STUART
Q. What services can I expect to find at a typical Amsterdam hostel?
A. Amsterdam hostels almost always have phone and internet service (free or for a small charge), breakfast, sheets and towels included in the price of a bed, TVs, DVD players, bicycle rentals, cafés or bars, storage lockers, common rooms, English-speaking staff, city maps and guides, and laundry and kitchen facilities.
Q. Are there any age restrictions?
A. It's important to know that roughly half of all Amsterdam hostels have age-restrictions. At some hostels, for example, guests must be between the ages of 18 and 35. A hostel's property description will make note of this on its website.
Q. What about cancellation policies?
A. Keep in mind that canceling within 72 hours of your reservation may not get you your money back. On the other hand, if you show up more than three hours late at some hostels, you may find that your reservations have been cancelled for you.
Q. What types of hostels are there in Amsterdam?
A. The hostel scene in Amsterdam runs the gamut from hedonist playground to monastery. It's important to decide what kind of experience you're looking for before choosing a hostel. Some hostels (like the Flying Pig Downtown) decorate the rooms with marijuana leaves and have their own nightclub with guest DJs all week long. Others are Christian-owned sanctuaries with single-sex dorms, curfews, and prohibit marijuana, alcohol, and even cigarettes (check out the Shelter City Hostel for peace and quiet).
Q. How much do hostels cost in Amsterdam?
A. As always, your cheapest option will be a campground. Rent a tent or a rustic cabin for €10 or less, and you'll have everything you need without the frills. (Get crunchy at the Bostel Amsterdamse). You might have to pay a little extra to get to these places, as they are (thankfully) not located in the city center.
If you want to be in the city at a proper hostel, you can still get a clean place to sleep for an average of €18 per person per night. This will be in a dormitory with between eight and 30 beds with a shared bathroom. (The cheap and central Hostel Annemarie boasts beds from €14.89.)
If you're feeling a little burned-out, private rooms at Amsterdam hostels are relatively affordable. Most have private doubles available for €50 to €100 (or €25 to €50 per person). This is a great choice for those traveling with a partner or small group – book in advance and split the price. (With two or more friends and a little foresight, you could book the Apartment Nemo – a very attractive, clean, and cozy flat with a fully equipped kitchen and a central location.)
Q. Where are most Amsterdam hostels located?
A. Most hostels in Amsterdam are centrally located, with easy access to the city's museums, coffee shops, parks, history, and notorious Red Light district. Amsterdam is largely a walkable city and you shouldn't have to sleep far from the action, unless that's your intention. In general, the hostels in and around the Red Light district will be a little more lively, while those in Jordaan and around the Museumplein and Vondelpark will be quieter and more relaxed.
Q. Where are the "official" Amsterdam hostels located?
A. Hostelling International has three locations in Amsterdam. HI is a non-profit membership organization that operates throughout Europe. They boast a lively, professional operation that claims to be free of "dodgy backpackers." HI hostels (as they're called) are large, clean, well-serviced establishments lacking only in character.
There are three HI locations in Amsterdam: the bucolic Stayokay Vondelpark, the gorgeous Stayokay Zeeburg, and the central, welcoming Stayokay Stadsdoelen. These places are ideal for large groups and can be quite hectic during the day. They all offer airport pick-up, change bureaus, concierge service, WiFi, and are both children and wheelchair-friendly.
Q. Should I stay on a houseboat?
A. Amsterdam is full of lovely canals, and if you like being gently rocked to sleep at night, you don't have to go far to stay on the water. The drawback is that these hostel boats are small, often with no more than four beds total. They have small bathrooms and kitchens and in general have fewer amenities because of their size. You will probably be sharing the space with the boat's owner, who might call himself "the captain."
That being said, many of these houseboats are pretty cozy and fun, with rooftop terraces, living rooms, intimate atmospheres, and even bonfires on summer nights (check out the Jonas Houseboat – this place advertises an online computer, refrigerator, and CD player in every room, plus a television and kitchen all within a ten-minute walk of Centraal Station).
Q. Do Amsterdam hostels have curfews?
A. Very few Amsterdam hostels impose curfews on their guests. (One is the Shelter City Hostel which locks its doors at midnight during the week and at 2 AM on weekends – about the same time the rest of the neighborhood gets going.) Otherwise, it's hard to find an Amsterdam hostel with a curfew, and if there is one, the hostel will always mention it prominently on their website.